The Viola Practice Camp
First held in August 2021, The Viola Practice Camp is a specialist online music camp for advanced teenage viola players.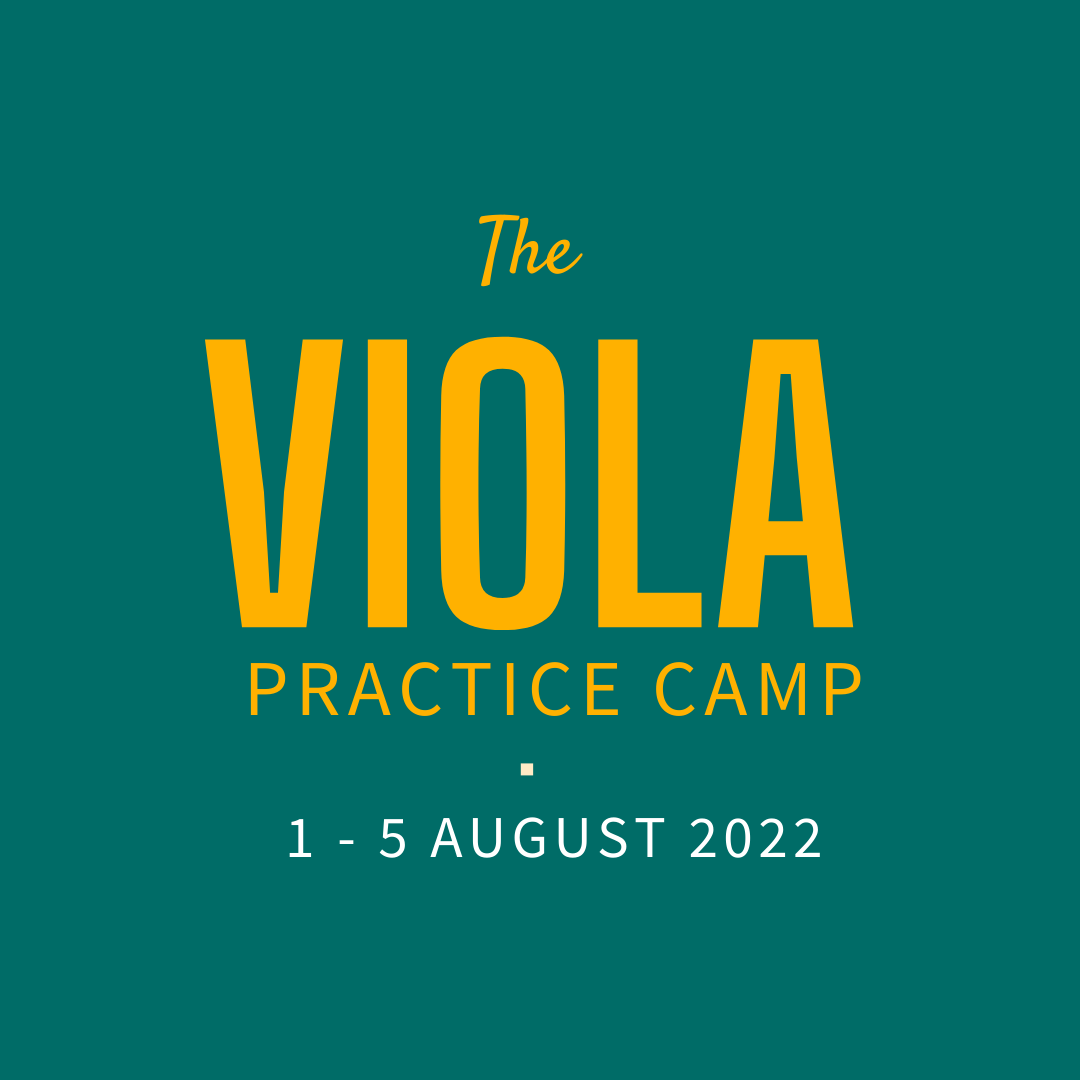 The Viola Practice Camp
The most recent five-day practice camp was held over Zoom. The Viola Practice Camp is for advanced viola players aged 13-19 and Grade 7+ who are looking to "level up" in a short period of time in a supportive environment with like-minded others.
Introduction by Gwen
After the success of our inaugural Viola Practice Camp in 2021, we returned in 2022. This five-day practice camp was held over Zoom. The Viola Practice Camps is a small community of advanced teenage viola players looking to take their playing to the next level in a supportive environment and in the company of like-minded peers. Over the course of the week students receive daily private lessons from our expert viola teachers, as well as take part in group sessions on stretching, technique and practise efficiency. There are also daily group masterclasses and a performance at the end of the week. Come with an open mind, meet others who share your love of the viola, and be cheered along every step of the way! And best of all, you'll learn some tools to continue to unlock your potential!
Daily 45 minute private lessons alternating between two master teachers.
3 dedicated hours of practice time each day, with a practice buddy - video on, sound off.
Group stretching to start each day and a group technique class to warm up. Daily group sessions on how to practise efficiently, and helpful tips on how to practise hard technical bits.
A group masterclass each day and a performance at the end of the week.
Meet the teachers
As professional viola players with international backgrounds, Gwen and Sarah share a wealth of viola performance and teaching expertise. They have created The Viola Practice Camp to share their passion for viola with teenage students who are motivated and ready to learn over a comprehensive and bespoke week. This is a specialist practice camp run by viola teachers for viola players.
Gwendolyn Cawdron
Gwen is Joint Associate Principal Viola in the Royal Liverpool Philharmonic Orchestra, a position she's held since 2016. Before this she spent seven years as a member of the Philharmonia Orchestra in London, and has worked with the BBC Symphony Orchestra, the Royal Philharmonic Orchestra and the Chicago Symphony Orchestra. Gwen's love of teaching began at a young age and was enhanced by her studies in the USA and Austria. She currently teaches with the National Children's Orchestra of Great Britain, is an Instrumental Tutor at the University of Liverpool, and works with students through the Royal Liverpool Philharmonic Learning Team. A passionate advocate of all things viola, she is one of the founders of Merseyside Viola Day and runs a thriving private studio.
Sarah Niblack
Sarah's multifaceted background combines elite musical training and elite athletics. A Division One Scholarship rower-turned-professional viola player, Paris-based Seattle native lived in Cincinnati, New York, and Aspen. Sarah is a founding member of the Quartet Audélie, a regular extra in the Orchestra National Ile de France and Orchestre de Picardie, and is Professor at the Conservatoire de la Garenne - Colombes. Inspired by the neuroscience of self-compassion and competitive response, Sarah leads The Audition Club, a supportive playing group for high-level musicians. She also facilitates artistic wellness and creative recovery groups with Artist's Way Paris. Sarah directs Classical Revolution Paris, with renegade chamber happenings, inviting all audiences to experience classical music in an accessible and fun environment.
£1,000 per student for the entire week*. The Viola Practice Camp space is limited and places are first come first serve. We operate a waiting list.

*Scholarships are available.
Express your interest and sign up to be notified that registration is open by using the contact form.
What does a day at The Viola Practice Camp look like?
The day runs online from 9:30am to 5pm GMT structured around 45 minute sessions and a 45 minute lunch. Each day will look slightly different as we cover different topics and aspects of playing and practicing, but a general daily structure looks like this.
What if I'm not Grade 7 or above yet?
The Viola Practice Camp is designed for advanced viola players aged 13-19 Grade 7+ looking to "level up" in a short period of time. This means that the content we will cover is fairly advanced. We'd love to see you in the future!
What if I'm on the waiting list?
We anticipate some movement in the limited number of spaces that we offer. Please keep us informed if your plans change and you can no longer attend.
How will the Viola Practice Camp work online?
Great question! Gwen and Sarah now have over a year's worth of experience teaching viola online. There are plenty of advantages to running The Viola Practice Camp virtually. Firstly, it's COVID-19 secure; regardless of rules changing, the camp can go ahead! Not to mention that you can enjoy the camp from the comfort of your own home. This means that when camp finishes at 5pm, your summer evening is your own. Finally, running the camp online means we can be cost-effective; there are zero expenses - no travel, no room and board fees. The pricing encapsulates everything.
Will I need to do any preparation in advance?
Not necessarily - just have a think about your repertoire in advance! It would be useful to have one or two pieces that you'd like to focus on during the week. Everyone will perform something at the end of the week. We invite participants to a friendly welcome call a few weeks before camp to check in and say hello!
Connect with The Viola Practice Camp
Follow us on Instagram to see the latest news and be reminded when Registration opens!